TL;DR ⏩
Problem: She Code Africa requested for a mobile health solution that allowed students in Nigerian tertiary institutions to seamlessly receive healthcare while at school. They needed to understand the process they took to access healthcare in these institutions, their goals, and their needs.
Role: UX Researcher
Team: 1 UX Researcher & 1 UX Designer.
Timeline: 5 weeks.
Approach: We conducted 5 user interviews and received 31 survey responses. Our participants comprised students in Nigerian tertiary institutions who had used or avoided the health services their schools offered.
Insight: We found that students did not use the health facilities situated in their schools due to long wait times, incompetent doctors, substandard health facilities, and the absence of doctors and medical supplies.
Results: Our research informed the design of the solution's prototype. With these decisions, we saved time and established a direct connection with She Code Africa's stakeholders during the project's presentation.
Skip to 💨
Getting Started
In March 2021, I was accepted into the 4th cohort of She Code Africa's mentorship program. The program lasted for three months. It was intensive and had me communicating weekly with my mentor, collaborating daily with my partner, Bridget Fayomi, and understanding users through research.
Students have a hard time accessing the health facilities in their schools due to poor communication and inadequate facilities. EverHealth aims to bridge the gap between students in tertiary institutions and the health facilities in their schools.
I partnered with Bridget Fayomi the UX Designer. While I was a UX Researcher for this project, I contributed to the UX and UI design of the app.
Defining Objectives
💡 Research Purpose: We wanted to explore the process students took to receive health care at their tertiary institutions, their needs, goals and the troubles they encountered while plying through this process.
We broke down our purpose into three goals:
Describe the experiences of students while using health facilities in their schools.
Identify the challenges associated with accessing these facilities.
Clarify why some students did not use health facilities in their schools.
The Approach
💡 First, we conducted secondary research, since the project was entirely our idea. Then we settled on 1-on-1 user interviews and triangulated with a survey. We mixed our approach to ensure that the data we got with one method (qualitative) was (in)validated with the other (quantitative).
Improving Health Care Access for Students
Recruitment
We focussed on recruiting tertiary institution students who had used their school's health facilities and those who had not. This let us approach the topic holistically.
Secondary Research
We gleaned the internet for current mobile health services, the features they offered and how they integrated into the lifestyle of their users.
Interview & Survey
💡 Afterwards, we connected our discussion guide to our research goals. Each interview lasted between 20-30 mins and probed students on how they sought treatment when they were ill in their respective schools and their experiences with the health facilities. We interviewed five students. In addition, we conducted a survey to measure our findings. The survey received 32 valid responses.
Analysis & Synthesis: Diving Deep
We started sifting through the data by searching for patterns.
💡 87.5% of our survey respondents had never booked an appointment with a doctor in their school and would instead seek medical attention outside their schools or self-medicate. Why? Because students despised the long wait time at their school's health facilities, the unavailability of medicine and doctors, incompetent doctors and substandard health facilities. Although participants kept an open mind towards the health facilities in their schools, students did not trust them.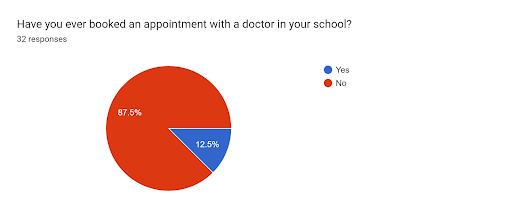 Pain Points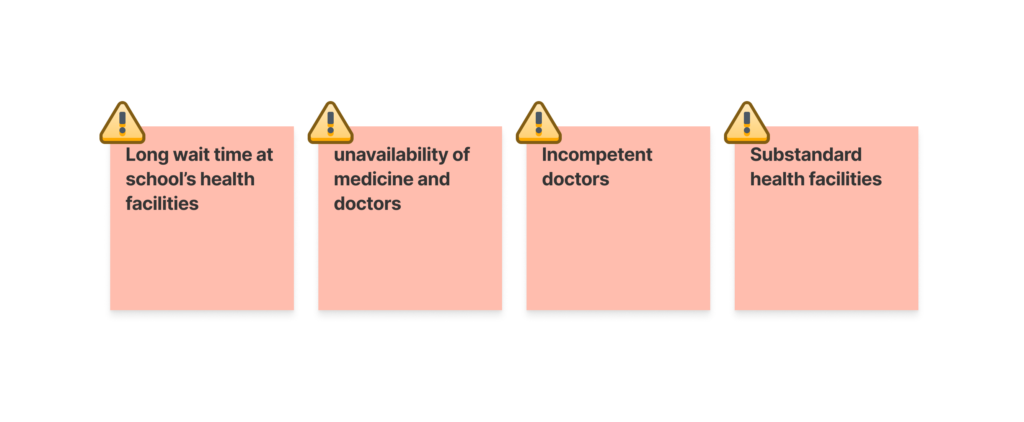 With these in mind, we came up with Priscillia and Emmanuel. They would represent our target audience.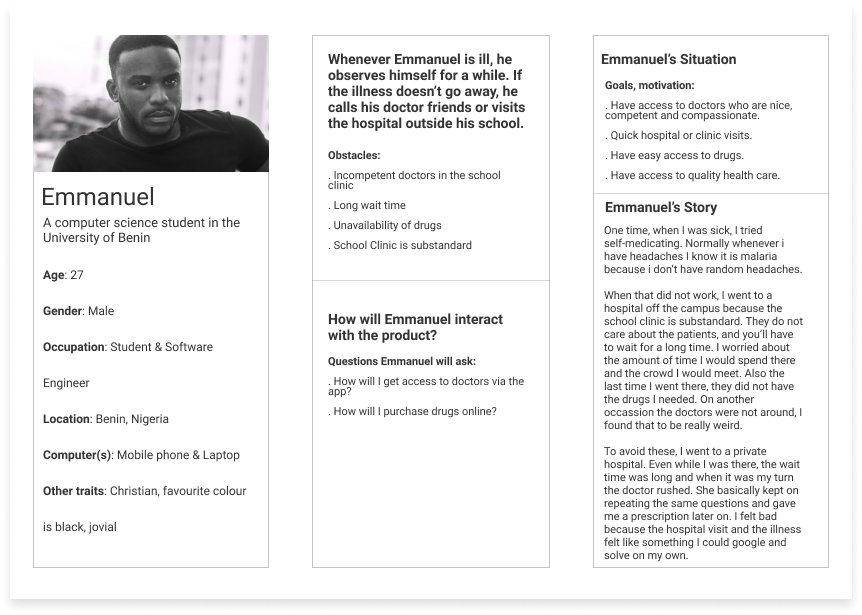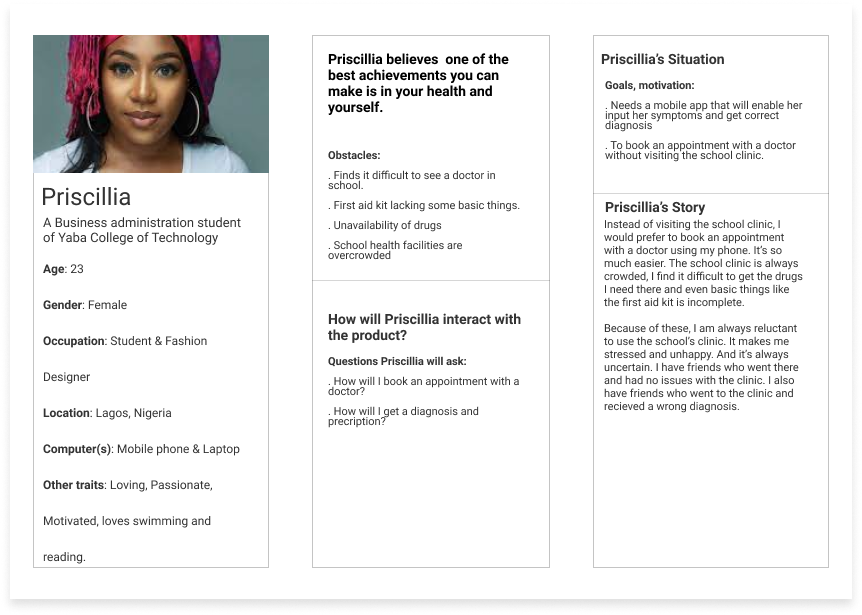 And because we aimed to grok the process students took to access health care we modelled two journey maps off our personas.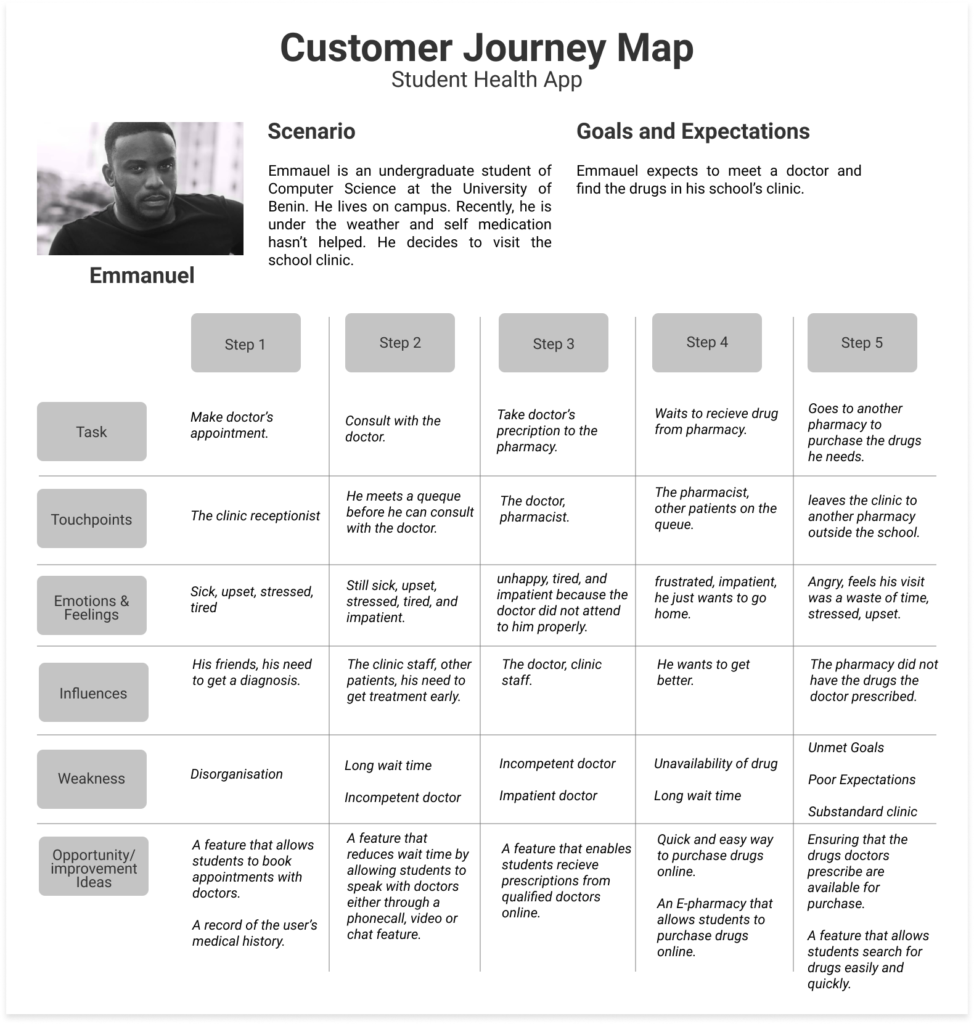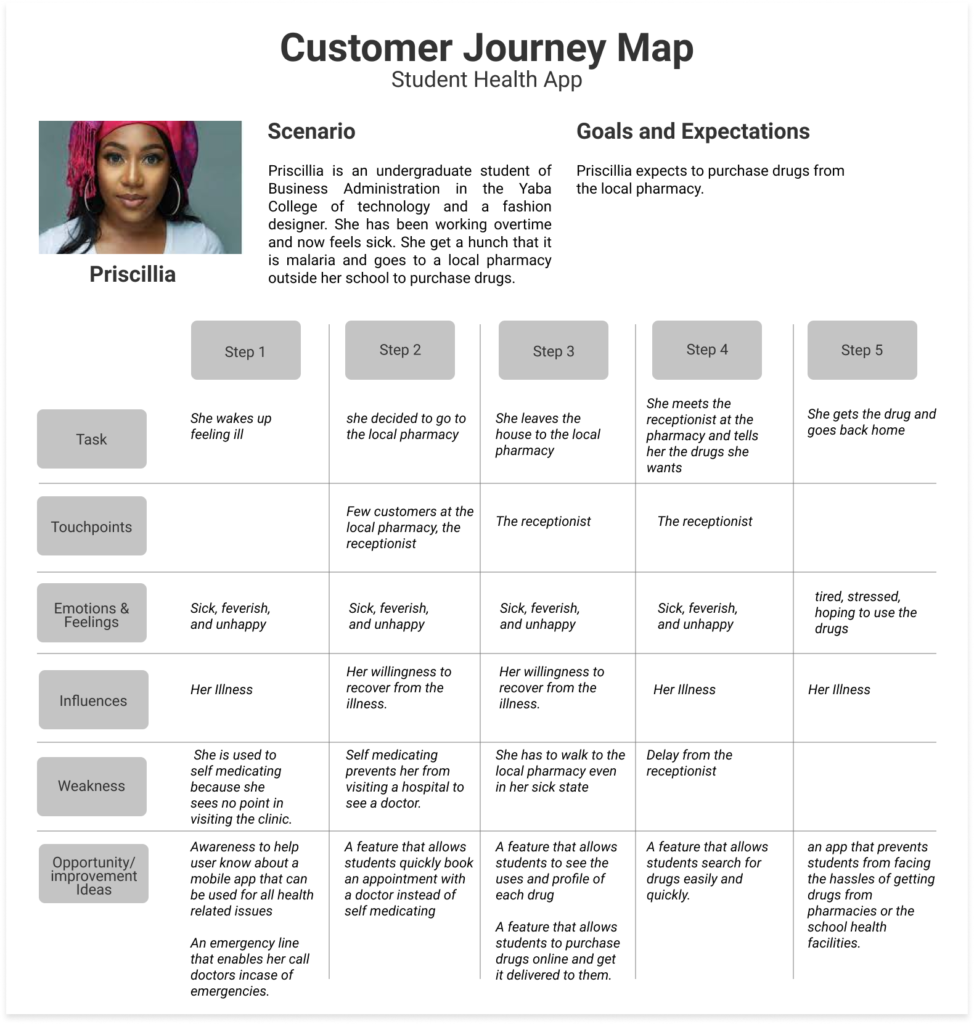 All these enabled us to determine the actionable insights that facilitated our brainstorming sessions.

Ideation: Brainstorming & Recommendations
After researching and ideating, we recommended five solutions: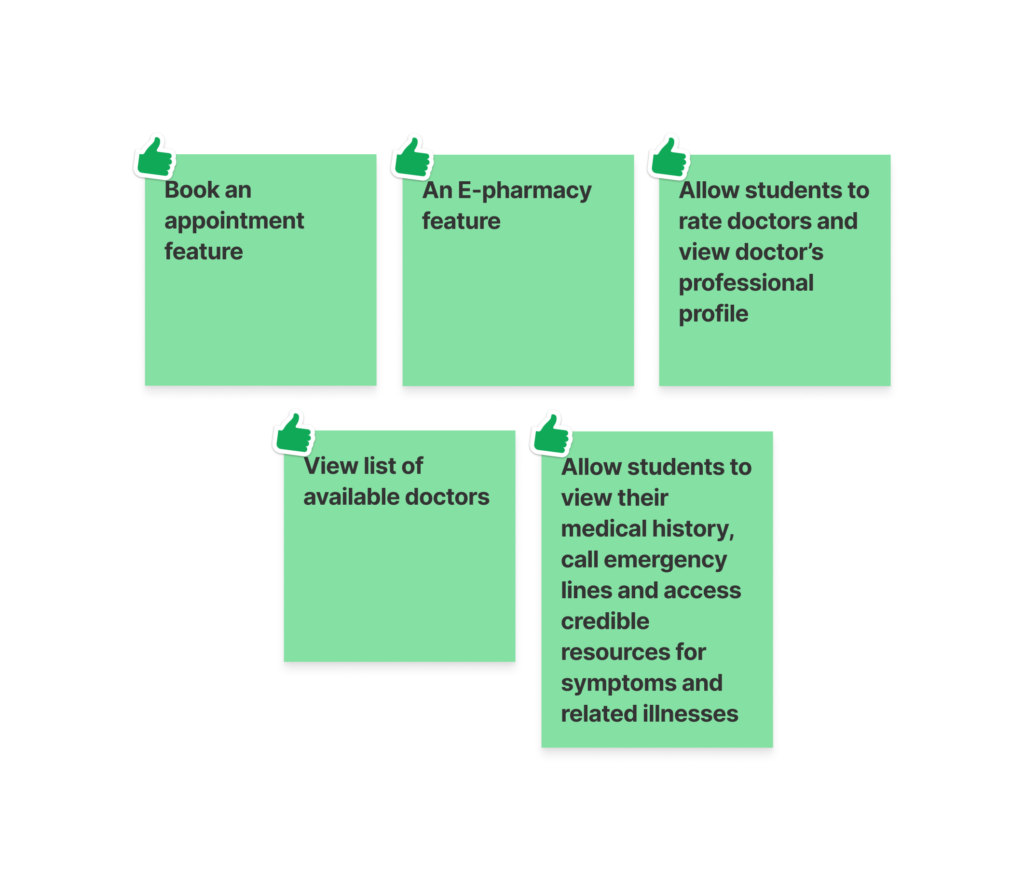 The Results
EverHealth App
Our research birthed EverHealth, an app that simplifies the health care experience of students.
Informed Design Decisions
Due to the recommendations of our research, we were able to save time and implement data-driven solutions.
Presentations
I and Bridget were the only team from the UX track selected to present our solution during the graduation ceremony. We shared our process with other graduates and external stakeholders and built a stronger connection with them.
Challenges & Lessons
The presentation of our solution marked the end of the mentorship. But it did not stop there for me. The skills I gained were invaluable and helped me scale through other challenges.
First-time UX Researcher
It was the first time I conducted user research. Suffice to say, I quickly learnt that without a proper definition of goals and expectations, research would have been a high hurdle to jump over. Through research, I empathized with users deeply, discovered their problems and recommended solutions to those issues.
Partnerships & Engagements
Partnering with Bridget taught me patience. I learnt to consider other ideas and to always seek the consent of others before deciding on the next steps.