Problem: She Code Africa requested for a mobile health solution that allowed students in Nigerian tertiary institutions to seamlessly receive healthcare while at school. They needed to understand the process they took to access healthcare in these institutions, their goals, and their needs.
Role: UX Researcher.
Team: 1 UX Researcher & 1 UX Designer.
Duration: 5 weeks.
Approach: I conducted 5 user interviews and received 32 survey responses. Our participants comprised students in Nigerian tertiary institutions who had used or avoided the health services their schools offered.
Discovery: We found that students did not use the health facilities situated in their schools due to long wait times, incompetent doctors, substandard health facilities, and the absence of doctors and medical supplies.
Outcomes: The research informed the design of the solution's prototype. With these decisions, we saved time and established a direct connection with She Code Africa's stakeholders during the project's presentation.
Skip to 💨
Getting started
During She Code Africa's 4th mentorship program, I partnered with Bridget Fayomi, a UX Designer to build a mobile health app for students in Nigerian tertiary institutions.
The program lasted for three months. It was intensive and had me communicating weekly with my mentor, collaborating daily with Bridget, and understanding participants through research.
Students have a hard time accessing the health facilities in their schools due to poor communication and inadequate facilities. She Code Africa needed a way to bridge this gap.
Duration: 5 weeks
Role: UX Researcher, UX support
Team: 1 UX Researcher, 1 UX Designer
Understanding student health care
We needed to explore the process students took to receive health care at their tertiary institutions, the challenges encountered while plying through the process and the reasons for not using the facilities.
I broke down our purpose into three objectives:
Understand the experiences of students while using health facilities in their schools.
Identify the challenges associated with accessing these facilities.
Clarify why some students do not use health facilities in their schools.
The process
What's going on in the wild?
I kicked off the project with secondary research to understand the mobile health landscape and how its solutions worked. Prior to this, I had no understanding of mobile health. As students, we both assumed that health facilities in Nigerian public tertiary institutions were decrepit and needed renovation.
What kind of students are we dealing with?
Determining our segment was not difficult, we focused on students in Nigerian public tertiary institutions (Universities and Polytechnics) who received or did not receive healthcare in their schools' health facilities and had a smartphone and internet connection. Why did they choose to receive health care the way they did? Why not?
Medium: School groups on WhatsApp, Telegram & Slack
How did we search?
The desk research and research objectives influenced the methodology. We opted for the mixed-methods approach: interviewing students while collecting survey data because the study required high confidence in the data. I interviewed five participants and collected 32 survey responses.
Interview

Afterwards, I connected our discussion guide to our research goals. Each interview lasted between 20-30 mins. It probed students on how they sought treatment when they were ill in their respective schools and their experiences with the health facilities.

Survey

The survey with 32 valid responses helped measure our findings. To ensure our responses were from the right set of people, the survey asked participants if they were students of any Nigerian tertiary institutions
Dancing with qual & quant data
We started sifting through the data by searching for patterns. I wrestled with combining the qualitative and quantitative data. Then it hit me. Since we understood why students took certain health decisions and the associated behaviours through our interviews, the quantitative data helped quantify those attitudes and behaviours.
The findings echoed our sentiments: most students did not use their schools' health facilities because of the long wait times, unavailable medicine, incompetent doctors and substandard health facilities.
With these in mind, we crafted two personas, both representing our segment and a journey map of each persona highlighting their healthcare journeys at school.
Findings

87.5% of our survey respondents had never booked an appointment with a doctor in their school and would instead seek medical attention outside their schools or self-medicate. Why?
Long wait time: Students dislike how long it takes for them to access healthcare at their schools' health facilities.
Unavailability of Doctors & medicine: The absence of doctors and medicine deters students from visiting their school's health facilities.
Incompetent Doctors: Students fear consulting with incompetent doctors
Poor health facilities: Subpar health facilities hinder students from accessing healthcare in their schools.

Although participants kept an open mind towards the health facilities in their schools, students did not trust them.

Ideation: Brainstorming & Recommendations

After researching and ideating, we recommended five solutions:

Book an appointment
E-pharmacy.
Allow students to rate doctors and view doctors' professional profiles.
View list of available
Allow students to view their medical history, call emergency lines and access credible resources for symptoms and related illnesses.
Deliverables
Personas: With the findings and insights in mind, we created 2 personas to understand our target audience. They helped our stakeholders understand the participants and helped us recommend solutions to their problems.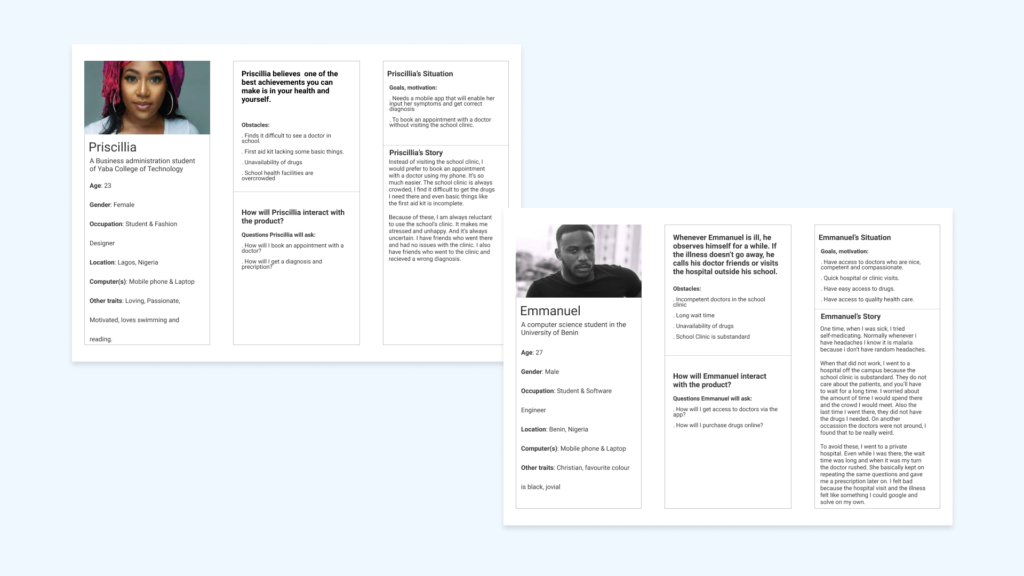 Journey Maps: And because we aimed to grok the process students took to access health care, we modelled two journey maps off our personas. Emmanuel prefers to use the school clinic after self-medicating while Priscillia has no interest in her school's clinic.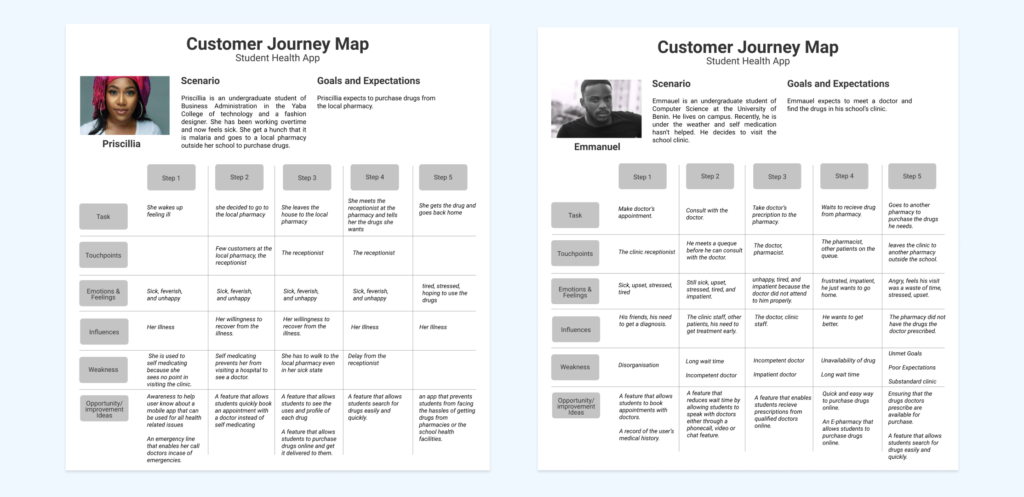 Outcomes
The research guided the development of our first prototype, an app that simplifies the healthcare process for students in Nigerian tertiary institutions.
We shared our process with other graduates and external stakeholders and built a stronger connection with them.
Challenges & lessons
The presentation of our solution marked the end of the mentorship. But it did not stop there for me. The skills I gained were invaluable and helped me scale through other challenges.
It was the first time I conducted user research. I quickly learnt that without properly defining your goals, research would have been a high hurdle to succumb.
Partnering with Bridget taught me patience. I learnt to consider different ideas and to always seek the consent of partners before deciding on the next steps.