Problem: DemocracyLab (DLab) wanted to increase the adoption of Groups, a feature for nonprofits to build portfolios, recruit volunteers, and get funding. It was created in 2020 without research, and previous user research studies stalled due to recruiting issues.
Role: Project lead, User Researcher
Team: 2 User Researchers, 2 UX Designers, 1 Product manager
Duration: 3 months
Approach: We (researchers) interviewed 7 participants for 1 hour each, analyzed the data, and presented the findings. Then, I facilitated a brainstorming session with stakeholders to refine existing recommendations and generate new ideas.
Discovery: The Groups feature can help organizations create project portfolios, but it cannot address their volunteer recruitment, project management, or organizational needs.
Outcomes: The discovery motivated DLab to continue building the feature, we generated and deployed the most feasible recommendations and discovered a new set of questions to explore in future studies.
Skip to 💨
Low adoption of the Groups feature
In 2020, DemocracyLab, a platform that empowers tech-for-good initiatives through recruiting and upskilling volunteers, launched Groups, a feature for tech-for-good organizations and nonprofits to group their projects under a single profile/portfolio.
But, the feature was underutilized.
DemocracyLab wanted to increase the adoption of the Groups feature. For a year, the research team tried but could not find participants. Those were the challenges I encountered when I joined the project.
The executive director of DLab assumed that organizations could use the Groups feature to create a project portfolio, recruit and onboard volunteers, and apply for grants.
Timeline: 3 months
Role: Project Lead, Design Researcher
Team: 2 Researchers, 2 Designers, 1 Product manager (The study was conducted by me and Brendan Thatcher)
Understanding the value of the Groups feature
I scoped the study to discover if the Groups feature was a good fit for the organizational, volunteer recruitment, and project management needs of nonprofits and tech-for-good organizations.
Why? After chatting with stakeholders, the goal was to understand why the feature was underutilized. I knew that the best way to tackle this issue was to first discover if there was a need for a feature like Groups.   
Hence the main objective:
To understand if the Groups feature was valuable to tech-for-good organizations and nonprofits.

Targeting organizations with multiple projects, not individuals
We planned to interview 13 project managers of tech-for-good organizations or nonprofits that had experienced managing 2 or more projects and recruiting volunteers for their organizations. Their organization had to either have a DLab group or not.
Segment
# of Projects
# of Volunteers
Dlab Group Ownership
Non Group owners (8)
2 or more
2 or more
No
Groups owners (5)
Yes
Segmentation breakdown
But recruiting in this space is hard and forced us to settle on interviewing 4 non-Group owners and 3 Group owners.
What truly is the value of the Groups feature?
In total, we spoke to 7 Project managers. I focused the first part of the session on the goals and challenges of their organizations, their project management tools and the volunteer recruitment process. Afterwards, we had each Project manager go through the Groups feature in real time to gauge their awareness of the feature and their underlying thoughts about its value. 
I attended all sessions, led 4, and summarized each one for the executive director.
A partial fit
The value of Groups met organizations' needs in the domain of creating a project portfolio, but data showed they needed more than the feature could provide.
I compiled the takeaways into a report. Brendan disagreed with my report writing method. He felt it needed to be condensed into bullet points of takeaways and recommendations.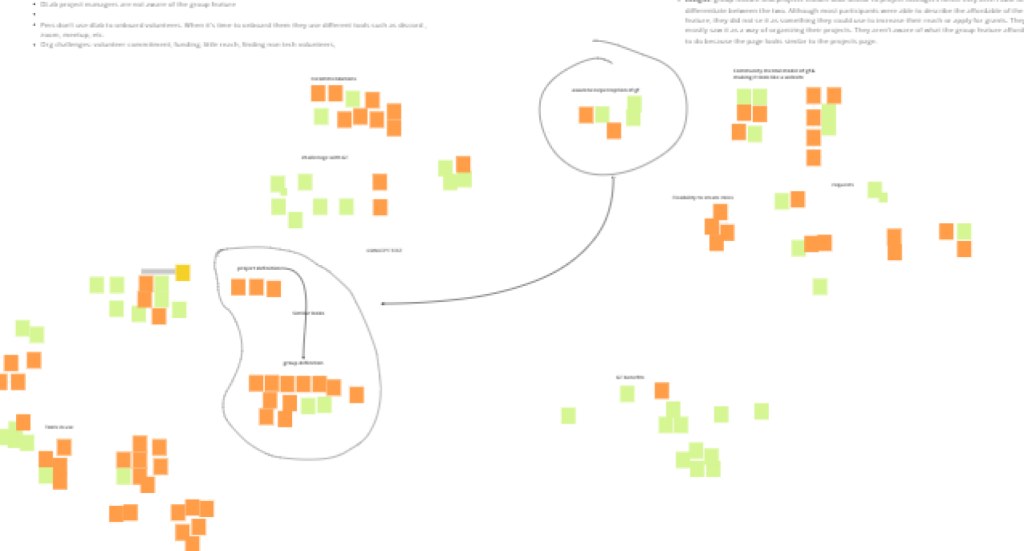 However, I was keen on documenting our takeaways in a contextual, concise, relevant and impactful way for the stakeholders because they indicated that they needed a high level of certainty in the data. The report I shared could be digested within 10 – 15 mins and it opened up a new path for us to generate solutions to address the issues we found.
Deliverables shared: Value proposition map, research report, list of feasible ideas.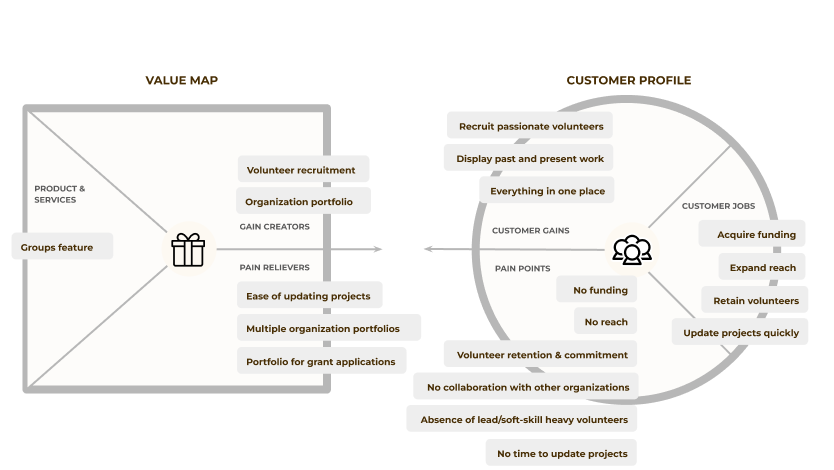 What are the most feasible ideas?
I understood the problems but did not have the design, development, and operations knowledge to make specific recommendations.
I decided to facilitate a brainstorming session with stakeholders to refine, generate, and prioritize recommendations.
Outcomes
The data clarified the Groups feature's purpose and motivated the executive director to continue building it.
We recruited participants more successfully than the previous lead even though it was short of our expectations.
We generated and deployed some feasible recommendations.
We discovered new questions to address inconclusive but worthy-of-mention takeaways.
Challenges & Lessons
Tech-for-good and nonprofit recruiting is hard, especially without incentives.
I could not generate solutions alone, so I guided stakeholders with the data to generate feasible ideas.
Communicate with team members and stakeholders clearly, and negotiate decisions with the conviction of the data.