In August 2021, my supervisor changed the topic of my undergraduate project to the aftermath of the Abolishment of History in Nigerian primary and secondary schools. At the time, I wanted to write about Funmilayo Ransome-Kuti's role in the decolonization of Nigeria and the suffragist movement. However, my ignorance about the state of History education in Nigeria propelled me to carry on with my supervisor's choice.
For four months, I spent my mornings reading journal articles, perusing archival materials, skimming newspaper articles, and interviewing research participants to ensure I documented all the necessary bits of information.
In February 2022, I completed the project.
Nine months later, I submitted it to the Department of History and International Studies, University of Ilorin, thanks to the 8-month ASUU strike.
It is October 2023, eleven months after my submission and here I am sharing the result of my research — a 26,000-word essay on the causes and consequences of excluding History from the curriculum of primary and junior secondary schools. It is neither the best nor most concise body of work I have produced — I still cringe when reading some of the paragraphs — but, it is a relevant topic that every Nigerian must know.
It starts like this:
It is unfortunate that for over three decades Nigeria has lived in ignorance of its past. At one point in its early life, it discarded its history; the subject that attests to its creation, set it free from colonialism, the subject that gives life, purpose, and consciousness to its citizens, and the one that if not considered always speculates disaster and a repeat of past mistakes…

Funmilayo Obasa,The Abolishment of History in Nigerian Primary and Secondary Schools The Aftermath, 1983-2021, pg 1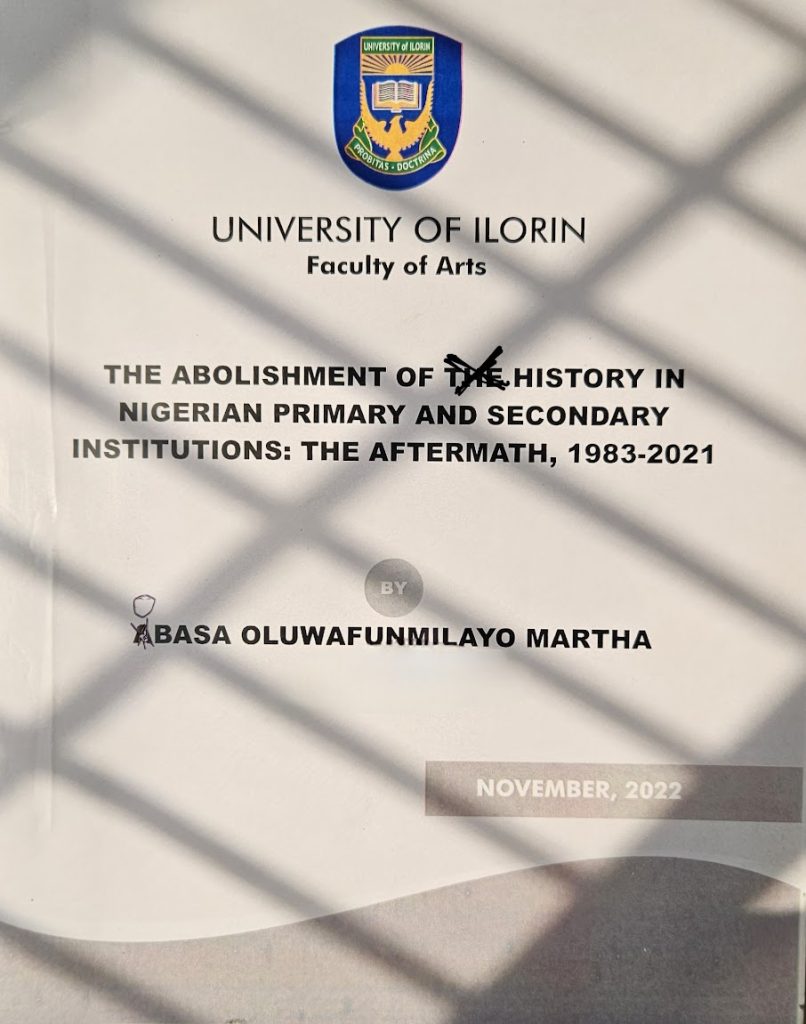 Decolonizing Nigerian history
As are most aspects of Nigeria, our history and the zeal to understand it is dead.
The study of history existed in pre-colonial Nigeria as folktales, prayers, proverbs and other forms of oral tradition. After the colonialists created Nigeria, they only taught European history and invalidated African history because it was mostly unwritten. The Europeans tagged themselves as "saviours" scrambling to brighten Africa or as they referred to it, "the dark continent."
From the 1940s – 60s, several Nigerian historians fought to redefine this narrative; they started by reconstructing Nigerian past events with oral tradition and eventually developed Nationalist History. Nationalist History is a branch of African history geared towards dispelling the European perception of Africans by documenting Africa's culture and identity the African way. Crucial as it was to the decolonization of Nigeria, it marked the beginning of History's decline.
A crisis of relevance
After Nigeria's independence, the government and citizens realised that nationalist history worsened our ethnic, economic and religious woes. Because it was oftentimes biased, people could distort historical facts to suit their ethnic, political, and religious agendas.
Since Nationalist history could not address the country's most pressing needs, the government prioritised the teaching of technology and science. Between the 1980s and 2008, History was sidelined for Social Studies and Civic Education in primary and junior secondary schools and Government in senior secondary schools. As such, history lost its place as a marketable and prestigious course. Historians began to question the discipline's relevance. To date, some believe that the elimination of History was a conspiracy forged by politicians to hide their past crimes and the West to keep Africa underdeveloped. The Ministry of Education removed the subject from the curriculum of primary and junior secondary schools during the 2008/2009 session.
What troubles me heavily is that many Nigerians do not grasp basic Nigerian history and are not interested in learning it. It is why some Nigerians think colonialism was a good thing and why they would prefer a military government. It is why people consider a former dictator a viable presidential candidate, why people support untransparent and unaccountable politicians, and why some Nigerians blatantly support secessionist groups without considering the ramifications. Nigeria is run by pseudo-democrats who, at every chance, use history to reinforce tribalism but stifle it to escape accountability. Our collective memory is so small and fleeting that even light travels slower.
Amongst other factors, the lack of historical knowledge among citizens is to blame for our present condition.
Transforming history education into an applied science
Although some lecturers in my department commended my project, others thought it was "too broad" and "not historical" — their comments did not bother me though because I was thankful my supervisor did not force me to write something insignificant about my village. Nevertheless, I was disappointed to discover that some of the critics did not know that the government removed history from the curriculum. Then it dawned on me that most of them studied history because they were rejected by their preferred departments.
Just as Professor Afaha, a lecturer at the University of Abuja, told me, most History students "were reluctant historians, people who could not gain admission to read law, people who could not gain admission to read mass communication," people who had no other choice than to study history. There was a time when the University of Abuja admitted 13 history students. Other departments have faced similar challenges. So, some history departments thought that the best way to address this problem was to append terms like "international studies", "strategic studies", "international relations" to their names. The Department of History at the University of Ilorin, for example, changed to History and International Studies. I and other students quickly realised that "international studies" was a small list of courses that not only failed to introduce the gravity of international politics and diplomacy but watered down the core history courses. It is one thing for History to be absent from the curriculum, it is another for it not to be taught well. Both issues plague history education in Nigeria. Addressing them is of the utmost importance.
The reintroduction of history into the curriculum of primary and secondary institutions is just the first step to attaining the true potential of this country. Luckily, the policymakers have realised the mistake of abolishing history from these institutions. What remains now is to repair the damage the mistake has caused. And this will take time to accomplish.

Funmilayo Obasa,The Abolishment of History in Nigerian Primary and Secondary Schools The Aftermath, 1983-2021, pg 99
As a History graduate, how history is documented and taught does not motivate people to understand Nigeria's peculiar problems nor spark the creativity required to solve them. We still document our history for the sake of it. But what use is the knowledge if it cannot be applied? The reintroduction of history challenges us to transition the field of history from academic science to applied science and think of how we can use historical knowledge to improve the lives of Nigerians and Nigeria.