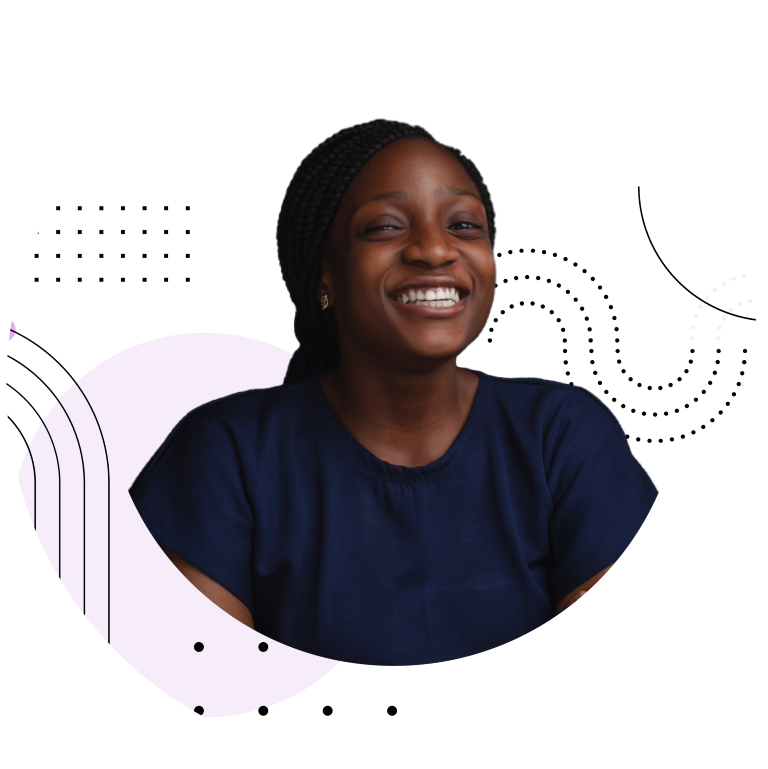 I am Funmilayo, a UX Researcher that leverages Human-Centred Design (HCD) techniques to understand and address human & business needs.
I am:
Data-driven

: I leverage my user research skills to help businesses and social impact companies make data-driven decisions. Have a look at my portfolio.

Business-oriented

: A business cannot help people or grow if its goals are not considered. My skill set will help businesses save time & costs, increase conversions & customer loyalty. I'll drive conversions while also considering people's needs.

A Quick learner

: I believe that learning never stops. I'm open to learning new things and adapting to new circumstances that'll drive me toward my long-term goal.
A Brief History
My tech journey began in May 2020 after Nigerian University lecturers went on strike. It was borne out of my preference for psychology: understanding human beings, their emotions, motivations and behaviours. Because of psychology's low career prospects in Nigeria, I was unable to study it at university and opted for History instead. Regardless of my History background, I decided to pivot.
Since then, I have parsed through courses on Coursera, the Interaction Design Foundation and YouTube, read books on research and design, participated in tech learning programs such as Zuri and She Code Africa, joined tech communities and I currently volunteer for DemocracyLab, an organisation that helps volunteers find tech-for-good projects. Having said this, I describe myself as a self-taught researcher.
How I Work
I currently have some knowledge of qualitative and quantitative techniques. However, I am primarily qualitative and aspire to become a mixed-methods researcher in the future. I have conducted semi-structured interviews, designed surveys, analysed data statistically and qualitatively, and created visualisations such as personas, customer journey maps, empathy maps, affinity diagrams, etc that have helped portray whichever problem I was trying to solve at the given time.
If you want to see how I tackled those problems and demonstrated my skills throughout my journey, check these out:
My background as a historian and writer has made me curious and detailed enough to consider past decisions and mistakes while researching for present solutions.
I am

Curious
I ask questions when it matters. I try my best to ask the right questions, to the right people, in the right way. That includes collaborating with key stakeholders and exploring the whats and whys.
I am

Detailed
I attempt to understand problems with user research leaving no stone unturned.
I am

Adaptive
I can mould into any circumstance granted that it doesn't prevent me from doing good work.
My long-term goal is to use UX Research, Big Data/Artificial Intelligence, and Service Design to contribute to education technology, design education, and participate in high-impact projects that solve social issues and scale businesses.
The Other Parts of Me
Like many others, I am multi-faceted. Yes, I focus on UX research but squeeze in a little time for other engagements.
Writing
Writing, to me, is best done when there is no pressure; when all you write is for yourself and no one else. Sometimes, I write about UX research, Tech and their relationship with human behaviour. But I prefer to document muffled stories through creative writing. These stories can be poems or essays and I hope to have a manuscript by the year 2025. Some of my creative works are published in the Bodies and Scars anthology, Cephalopress, Brittlepaper, etc. I came third place in the Punocracy Prize for Satire 2019. I was also longlisted among the top 100 entries in Nigerian Students Poetry Prize 2019.
🗞️ You will find my publications here.
⚖️ If you care to read about my views on various topics check my opinion pieces.
📰 Subscribe to Purple Search, my monthly newsletter.
Photography
I enjoy taking and gazing at images that are simple yet provocative. I enjoy taking conceptual images. For me, photography is a way of bringing my abstractions to life because sometimes, pictures say more, so much more than words.
📸 Photographs: Look at them.
Reading
I read because I am curious and love to learn (you wouldn't be wrong if you called me a geek). I have lots of favourite writers and books but my extreme favourites are Toni Morrison (especially her book, 'The Bluest Eye'), Chimamanda Ngozi Adichie, Don Norman, and 'The Book of Negroes' by Lawrence Hill. My reading list is always diverse and consists of books based on history, politics, photography, fiction, psychology, science, and of course design and research etc. I believe knowledge can be drawn from multiple sources.
Personality
I'm an introvert and most times find solitude interesting. That is what stimulates me the most. For most of my childhood, I was forced to believe that my introversion was a flaw. But now, I embrace it. It is simply who I am. It's hard enough living in a world designed to suit extroverts, but I try my hardest to make every effort count with my peculiarities.
Let's Connect
Now that you've learned a little bit about me, let's get in touch!
📲 What are you waiting for? Contact me!