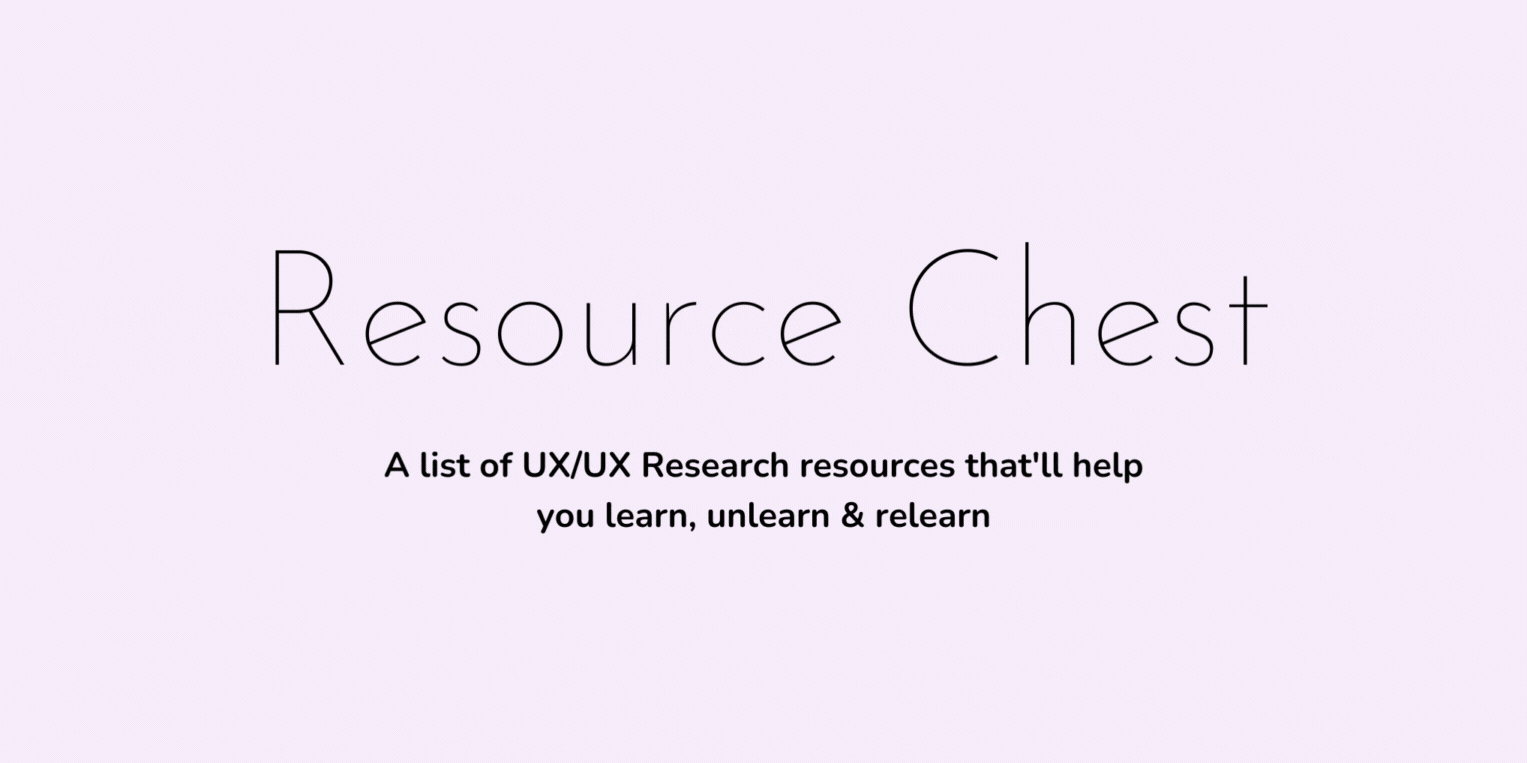 Self-learning requires grit, practice, more grit and dedication. It equally requires the ability to evade misdirection and identify misinformation. UX and User Research unveil multiple grey areas; the lines are blurry, the routes are rough. Although it has never been this easy to access information, we often have no compass for the rough, thorny, overflowing internet.
I have learnt and am still learning from different online and offline resources. Like many, I've battled with misinformation. My journey continues to teach me how to weed the bad resources from the good. Now, I want to share them with you because I feel that they will help you, dear Designer & Researcher, evade misinformation.
Skip to 💨
Getting Started in UX Research
How do you even get started? Let me just say the process is far from linear especially if you are learning alone. These courses and articles should set you on the right path.
Articles
Courses
Interaction Design Foundation (IxDF)
There's a lot to gain from the IxDF. I cannot overemphasise how much the foundation has helped me. The foundation keys into the foundation of UX and User Research and the psychology behind them. It doesn't hurt to explore other areas — I advise you to. If your focus is UX Research, the User Research, Usability Expert & Marketer tracks should get you started. It does cost $120/per year. But trust me, it's worth it.
If you are unable to pay, they have useful articles that can help you get started!
User Interface Design Specialisation, University of Michigan
The specialisation comprises of four courses. It let me see the big picture of UX and fed me interesting Design Research insights. It's a bit academic but the content is easy to grasp. You can audit each course and take them for free. This won't give you access to the quizzes, assignments and certifications. If those interest you, you can either apply for Coursera's financial aid (for each course) or pay.
Human-Centred Design: An Introduction
This course is part of the Interaction Design specialisation by University of San Diego. I am recommending it because it gives the fundamentals of interviewing, explains what prototyping is and provides a bird's-eye view of how to evaluate them. You can audit the course and take it for free without the certification or you can request for financial aid.
Resource Lists
Books
Don Norman
Don Norman has a standalone category because his words are special. We're talking about the man who pioneered what we know as UX. Don Norman is one of the best resources you will ever encounter. God-like status, yes 😏? His books will cause your perspective to shift for the better.
The Design of Everyday Things
I'm certain that you must have heard about the Design of Everyday Things. Someone out there must have recommended it to you. It's a great book. You'll learn so much about design and the importance of Research and psychology.
Emotional Design
Emotion is the yucky, touchy subject we often try to avoid. Often, we tell ourselves that emotions are irrational, that exhibiting and using them to make decisions is nonsense. Sometimes, we even try to attribute emotions as the reason why a certain gender (*coughs* women) are irrational and not leadership-worthy 🙄🙄🙄. But emotions are genderless. Norman, in Emotional Design, argues that they motivate most decisions we make and affect how people adopt products and services.
Living with Complexity
There are articles, courses and materials that always advocate for simple solutions to complex problems. It's great how we want to make things easy for people to use. Nevertheless, ease doesn't always translate to simplicity. In this book, Don Norman argues that complication and simplicity are in the mind. Depending on the context, complexity should overrun simplicity.
Just Enough Research by Erika Hall
Erika Hall's Just Enough Research zeros in on the types of research, research methods and how to get stakeholder buy-in for design research. I totally recommend it.
User Research can capture behaviours and attitudes. Read Hidden in Plain Sight and you'll journey on an ethnographic adventure; Jan Chipchase's treat. You'll also learn a bit about business, adoption, threshold maps — which I find very interesting — and how they relate to UX Research.
Atomic Design by Brad Frost
This book is about UI and Design systems but I feel a lot can be borrowed from the Atomic Design principle. Besides, it's a good way to understand how UI design works. The idea behind atomic design is to design UI components as parts of the whole. Systems thinking: that's what makes it special. (In the future, I'm going to delve into service design and research-focused leadership. This book makes me think of service design) The chapters I recommend are:
Chapter 1: Designing Systems
Chapter 2: Atomic Design Methodology
Chapter 4: The Atomic Workflow (Has some really cool tips on how to improve stakeholder buy-in)
Interviewing Users. How to Uncover Compelling Insights by Steve Portigal
This is a great guide for conducting Interviews. Interviews are one of the most versatile methods you must get right! Steve Portigal explores the ins and outs of interviewing and how they can mingle with other methods.
Don't Make Me Think by Steve Krug
All about usability. First off, I love how intuitive the book is especially how the footnotes come immediately after the citation. Steve Krug writes on Usability Testing for websites and mobile apps.
Universal Methods of Design by Bella Martin & Bruce Hanington
Great reference material for all the UX Research methods in the wild, Universal Methods of Design will acquaint you with most UX Research methods and when to use them throughout the product development cycle.
Papers
Some thought-provoking papers I think you'll benefit from.
Learning Repositories
This is the best way I can describe these platforms because they are packed!
CuriosityTank
CuriosityTank is a parcel of UX Research Resources that range from templates and workshops to a full-blown UX lexicon! Michele Rosen, a seasoned UX Researcher, founded CuriosityTank with the aim to help organisations and researchers ask the right question. I have used a few of the templates and have personally learnt from Michele. She's a wonderful teacher.
User Research Academy
I discovered this at a time when UX Research was still vague to me and it cleared the fog. Nikki Anderson, the academy's founder, has lots of templates and courses for your disposal. Her UX Research articles are littered all over the internet. Sometimes, when I stumble on a UX Research article I'm almost certain she's the author! And her newsletter and podcast are brilliant!
The Team W
Learn about design from the perspective of behavioural scientists. The first time I heard of the Team W, founded by Susan Weinschenk, Ph.D, was during an IxDF webinar on human biases and their influence on design. I loved their energy, I'm sure you will too.
Blogs/Newsletters
You'll probably snag most of your UX Research knowledge from blog posts all over the internet. So, if at some point in your career you'll have to depend on Google for help, you might as well remember these blogs.
Podcasts
Podcasts let you pass time. Here are a few UX Research, tech & psychology podcasts I really love:
YouTube
Although not common, there are a few good UX Research content creators on YouTube.
Libraries
You know how a physical library gives you access to lots of text resources? Well, there are online libraries for UX Research content. I use the term library to describe platforms that provide guides, kits, handbooks, case studies and even templates!
Apple & Banana
Apple and Banana has a blog and a UX Research Library. The blog is free to access but you'll have to pay for the library. Regardless, you'll find expert and practical content backed by theory. This is the best combo for learning anything.
IDEO Design Kit
IDEO is one of the largest design companies in the world. They've got case studies and a super cool design kit that explains the methods and frameworks one may use in the human-centred design process.
Komodo
I really love Komodo's case studies and white papers. Check them out.
User Interviews
User Interviews has a blog, podcast and a UX Research field guide that'll introduce you to the UX Research process.
Communities
Being a self-taught UX Researcher can get lonely. Believe me, I've had my fair share. The field is growing and now more than ever, we have to connect. Some of the communities here are not UX Research communities but they will help you connect with people.
Grow on LinkedIn
I know LinkedIn has a lot of noise but it is useful. LinkedIn serves as a career and networking tool that you can use to learn. I've learnt more on LinkedIn about UX and UX Research than I have on other social media platforms. It all depends on who you follow. Some recommendations:
UX Research in Africa
I'm constantly frustrated by the lack of UX Research roles in Nigeria and Africa. Although nascent, UX Research is growing and I hope to live in a time when African companies prioritize human-centred design and research.
Social Impact Companies and Agencies in Africa
There are companies and agencies dedicated to using design for good on the continent. Check out their case studies to see the impact they have made.
State of User Research Report by YUX Design:
When I read User Interview's state of user research report, I wondered if there was a similar report for Africa. The first thing I did was check the demographic of their participants. The report, unfortunately, does not represent the entirety of UX Research in Africa. The good thing nonetheless is that YUX, a Pan African Design Agency launched their flagship state of User Research report in Africa. Another is on the way. I'll include them here as they are released.
Growing as a UX Researcher (Skills Assessment)
We all want to grow. Tracking our skills as UX Researchers is difficult. Here's a cool thing: I found three articles/templates that'll guide you when assessing your skills as a UX Researcher.
Sample Portfolios
I struggled to find UX Research portfolios I could learn from. Thankfully, here's a list of UX Research/UX portfolios that'll give you some inspiration.
Quantitative UX Research
I'm fascinated by Quantitative Research, AI and how it can meld with UX. Quantitative UX Research is still finding its place in the tech industry so it's hard to find precise roadmaps and direct resources.
Getting Started
Articles
Courses
CrashCourse Stats
This is probably one of the best statistics resources I will recommend. Adriene Hill, the course instructor, makes each lesson humorous and understandable. I struggle with statistics because most resources out there are too complex. That's why Adriene Hill is good at what she does. She breaks down the concepts well without oversimplifying them.
DataCamp
If you are after the tools, DataCamp is great. Theoretically, it's zero to none. This might seem like a good thing today but I'm a firm believer in combining a good amount of theory with practice. That's the best way to learn. DataCamp will teach you how to code in Python or R or perform various statistical operations with these tools. It won't teach you why you need those operations, how they work, or when they should be applied.
Data Analysis Specialisation on Coursera
This specialisation will help you get started but my complaints about DataCamp apply. Great for building a stronghold in understanding what Data analysis is all about, but not great for learning statistics theory. You need both!
EDX UX Data Analysis
You'll hardly ever come across courses that focus on Quantitative UX Research. This course is as rare as a hen's teeth. It touches on some basic statistical concepts and how you can use hypothesis testing to test prototypes. It is practical. I recommend taking Crash Course Statistics before diving into this course. Else, you'll get lost.
StatQuest
A great resource for learning statistics theory. It also has a YouTube channel. I love it! The fun thing about this channel is how Josh explains various statistical concepts without dumbing them down. I was struggling to understand what p-values were until I stumbled on one of his videos about it. It was so helpful!
MeasuringU
All things quant and mixed-methods. MeasuringU is a great place for quantitative UX Research resources. It has a blog and calculators for different metrics. They also have courses and publications.
Quant UXR Con
I'm not sure when the next conference will hold, but when I attended the Quant UXR Con in mid-2022 there was so much quality to absorb. Every session was free! I learnt about Quantitative UX Research, its origin and how it applies to UX projects.
Quantitative Research in Action
Sometimes, it's not very clear how Quantitative UX Research works or how it can be used to generate insights. I for one struggled to understand how it could be applied to the real world. Here are articles that'll show you how impactful Quant UXR can be, especially when combined with qualitative research.
Psychology
Understanding how human beings act and behave is part of UX Research. How does our memory work? How do we work in groups? How do we listen? How do we see? How do we emote and perceive things? What about biases? What about cognition? Our consciousness? Emotions? If you are a psych geek — like me — these resources should help.